About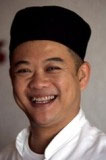 For 21 years Chef Chai and family have been providing San Antonio and the surrounding area with nothing short of the best in Thai cuisine. Flavor without limits that can range from sweet, sour, salty, bitter and spicy, our meals are cooked in traditional Thai custom, presented to you at the correct temperature and made from family recipes handed down through generations, prepared with the finest and freshest ingredients.

We refuse to cut corners and insist on serving food that is made with the most possible, sometimes hard to find authentic Thai ingredients. In fact, due to accepting no substitutes, Thai Chili Thousand Oaks has been recognized by the Royal Thai Government for using only imported Thai ingredients. Very few Thai restaurants nationwide can make this claim and display this honor in their establishment. We've also won the #1 Thai Gold award for nearly 11 consecutive years between 2009 and 2019. We take pride in our product, and after two decades, we still cook from the heart.

We appreciate your patronage. And we want to thank you for allowing our family to serve yours now and for many years to come. There is a lot to explore on our menu so get to ordering and please don't hesitate to ask our experienced staff any questions you may have.
---

Awards